Pictical™
Blue Marble Custom Spotify Acrylic Album Cover - SPOTIFY Song (scan + play)
Regular price
$32.99
$0.00
Unit price
per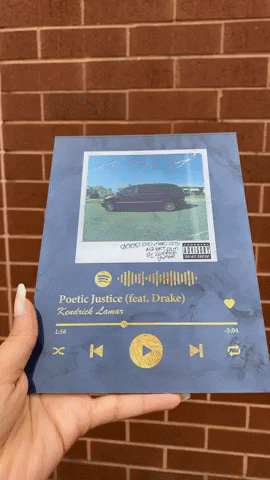 Directions
Select size and then Customize to add your preferred image and text to your custom Spotify marble acrylic album cover. You choose the artist, song, and image! Upload any image you wish to use and zoom in or out to achieve your desired result. We suggest uploading a clear, high-resolution image. 
Please see customization form for step-by-step instructions. 
If you need assistance or you have custom color requests, please email info@pictical.com and a designer will contact you!
Description
Our marble Spotify acrylic album cover, (also known as glass albums, as seen on Tik Tok) is custom-made and designed by you! Our marble acrylic album covers are not transparent. This design prints on a blue edge-to-edge marble pattern on shatter-resistant clear acrylic. Our acrylic is high-quality, high-gloss, mimicking the look and feel of glass. The acrylic is professionally cut in our printing facility.
Each print goes through a double-printing process so the print is opaque and rich in color. This option comes with a Spotify URI code that can be scanned within the Spotify app with your phone camera to automatically play your selected song. (Please note that playlists will load but they will not automatically play when scanned.) 
All orders are machine cut for a polished finish and will arrive with a removable blue or brown film to protect the acrylic in transit.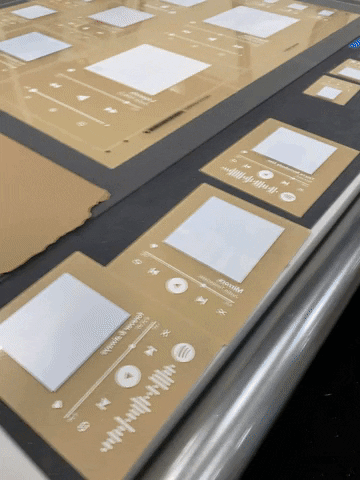 Care Instructions
Can be framed or mounted on the wall with a gentle adhesive, or placed in our custom acrylic photo stand.
Please handle with care to avoid scratches.
Please avoid applying harsh adhesive to the print to avoid damage.
Clean with a microfiber or lens cloth as needed. 
Dimensions
Available in 6inx8in, 8inx10in, 11inx14in, and 16inx20in. Acrylic is 3mm thick. Please contact sales@pictical.com for custom size orders. 
Shipping and Returns
Ships within 2-4 business days.
Please note that your custom Spotify album cover will enter production immediately upon submission and all orders are final. We can rarely modify an order once it's submitted and we do not accept returns or cancellations due to rapid production speed. Please be certain that your design does not contain any typos and appears exactly as you would like it to print before you finalize your order.
We offer a 14-day return policy upon delivery in the rare event that your item arrives damaged, but please contact us within 48 hours of receiving your order if there are any issues. 
Made in the USA.
---